The technology called Augmented Reality strives to combine the physical real-world environment with elements that are augmented by virtual computer-generated imagery. Much like the heads-up displays in popular video games each one of us will soon have the ability to merge the physical world with information about people and places directly from the internet.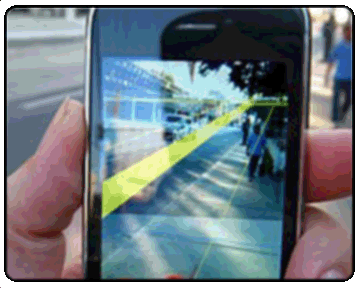 In July of 2009 a company called SPRXmobile released an app for a few select smart phones called Layar which allows the user to aim their cell phone around and see all kinds of information pop up on their screen about their surroundings. Currently, the information it displays are things like web reviews of restaurants, apartments for rent, and sale prices on items in stores.
This technology has been used in more subtle ways for quite some time now. TV stations have been using a type of AR to show the "down" lines in football games and to trace the puck during hockey games. Also, giant sponsor logos are now being digitally inserted onto the playing fields and other advertisements are being modified or added.
Soon we will all have mobile access to data and information which is gathered from the internet and will be displayed as small bubbles of information floating all over our world. We will all have homes filled with virtual plants, paintings and wallpaper. We will control digital media, like the internet and our PCs, by gazing or pointing. We will see a mass marketing switch over to virtual window arrangements, posters, decorations, advertisements, and billboards which will all be fully interactive, even at a distance. It's all about adding even more information to your world and the possibilities are endless once this technology improves and becomes affordable.
~TeCHS

Your Digital Life Simplified!