The term RFID (or Radio-Frequency Identification) refers to a small object (or tag) which is used for the purposes of identification and tracking of an animal, product or person using radio waves. There are three types of RFID tags being used right now. Active RFID tags which transmit signals anonymously; Passive RFID tags which require an external source to provoke transmissions; and Battery Assisted Passive (BAP) tags which require an external source to provoke transmissions but have a much larger range. RFID tags are very easy to conceal or incorporate into other items since the tags can be made as small as 0.05mm X 0.05mm.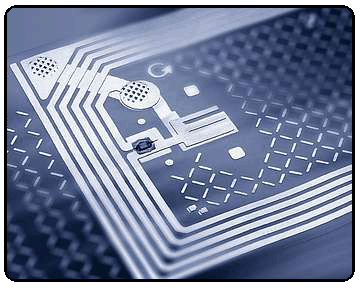 RFID is used in many varied applications from security, healthcare, education, consumer products and business applications. The initial use of RFID tags was as a way to track and manage live animals, from livestock to house-hold pets. Some models of RFID tags are inserted under the skin and others are attached externally, but both are read in the same manner. These tags can do everything from helping to find a lost pet cat to tracking large shipments of meat products.
The tags are also being used for traffic management systems to track car movements and road usage, toll systems for payment and usage information, and public transit pay passes. Libraries are replacing traditional barcodes with RFID tags on their books to keep better records of each book and to keep a better eye on their books. Earlier this year, researchers at Bristol University glued RFID tags to live ants to better study their behaviors. RFID tags can be placed inside a cellular telephone as both a passive tag and a reader which can be linked to multiple accounts, such as bank accounts or credit card accounts, allowing people to use their cell phones to pay for everyday items.
RFID gives companies a much easier way to identify and effectively manage their assets while eliminating most paper record keeping and helping to reduce maintenance and inventory costs. The United States Department of Defense now mandates that all vendors place RFID tags on all shipping containers that travel outside of the continental United States to improve their supply chain management.
RFID is also becoming crucial in healthcare and pharmaceutical applications to track patients, drugs, staff, assets, parking at hospitals and other developments including automated error prevention.
One can't help but wonder whether we will all have RFID tags inside our bodies in the near future.
How would you feel about that? Would you volunteer?
~TeCHS

Your Digital Life Simplified!